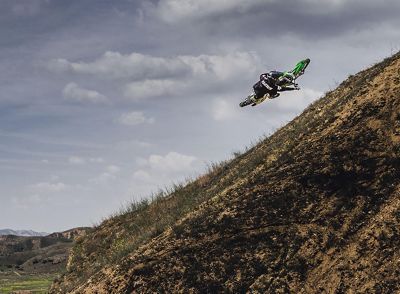 Jeremy "Twitch" Stenberg is the king of step-up and one of the most naturally talented freestyle moto-x riders riding today.
He makes the most technical moves look smooth and easy, despite the fact that he was diagnosed with Tourette's Syndrome at age five (hence his nickname, Twitch). Jeremy started riding at the ripe old age of two when his dad got him a motorcycle for Christmas.
Freestyle motocross reared its ugly head in Twitch's life at age sixteen, courtesy of early freestyle influences like Mike Metzger and Brian Deegan in the Crusty Demons videos. These days, Twitch can often be found riding his 2005 Honda with friends and Metal Mulisha teammates Deegan, Ronnie Faist, Beau Manly and Collin Morrison at the compound, as well as at Mike Metzger's place.
In 2005 the world was taught a lot about the new Twitch, when Jeremy came through on his prediction that he could, in fact, beat anyone and everyone when it came to freestyle motocross. He didn't win every contest, but he did score two X Games gold medals, two Gravity Games silver medals, two X Fighters silver medals, an Air and Style silver medal and an LG Action Sports silver medal. Though 2006 started out just as Jeremy planned, taking the gold medal at the X Games in Aspen, a crash at the first stop of the '06 Dew Tour left him with two broken legs and no chance at the Cup.
Besides riding motocross, Twitch enjoys skateboarding, listening to music like Danzig and the Kottonmouth Kings and taking care of his daughter, Katrina.
Stenberg is a 14-time X Games Moto X medalist, making him the second most decorated Moto X athlete in X Games history. As a competitor and gold medalist in both winter and summer X Games, Austin will be Twitch's 21st X Games appearance. His fan-voted Best Whip gold medals prove Stenberg isn't just one of the most gifted freestylers, he's one of the most popular.